Welcome to Pilates Connection Winchester. Not sure where to start? Let us help guide you. 
BEGINNERS INTRODUCTORY PACKAGE
Begin your Pilates practice by preparing your mind and body with the Beginners Introductory Package. The easiest way for us to understand what you need from Pilates is to purchase our $99 introductory package. This package includes one private session to acquaint yourself with common Pilates terms and equipment and 4 classes of your choice to explore just the beginning of all Pilates has to offer you in your wellness adventure. Safe for all levels. $99. Sign up Today!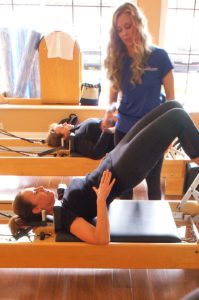 PRIVATE SESSIONS AVAILABLE:
Private sessions are personalized one-on-one sessions scheduled by appointment with an instructor, designed to introduce the Pilates workout to a new client, or any client who feels they need special attention.
Privates are usually taught on the Pilates equipment, on a beginning level and increasing in complexity according to the client's abilities.
Rates: One Session $71.00
Prepay for 5 sessions $325.00
Prepay for 10 sessions $590.00
*30 minute sessions also available for those who need efficient physical assessments, body work, deeper guidance on their class practice questions, etc. at half the 55 min session rate.